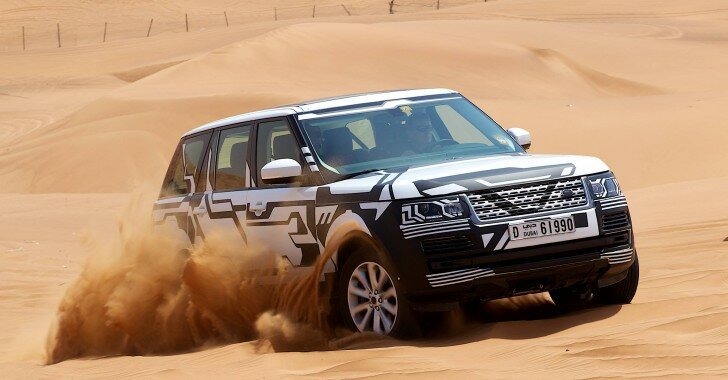 Jaguar Land Rover today further enhanced their Middle East test programme by opening a new GBP 1 Million / USD 1.5 Million engineering test centre in Dubai, UAE, to conduct extreme hot weather vehicle research, development and testing.
With temperatures in the desert typically reaching 48 to 50 degrees Celsius in the summer months, the new 11,120 sq. ft. facility in the Al Barsha area of Dubai, UAE will offer a comprehensive range of tests including durability, calibration and hot weather testing for heat and humidity. The engineering team at the centre will also test powertrains, chassis and heat and ventilation systems, as well as the off-road and sand driving capability of Land Rover's unique Terrain Response system.
Jaguar Land Rover has a network of five global test facilities: Dubai, UAE, Nurburgring, Germany; Arjeplog, Sweden; Phoenix and International Falls, USA.
Jaguar Land Rover Director of Engineering Technical Services Martyn Hollingsworth said: "Jaguar Land Rover has ambitious plans for growth, and since 2008 we have been investing to enhance our engineering capability to help us deliver an unprecedented number of new and refreshed Jaguar and Land Rover models.
He continued: "Our new facility in Dubai is four times the size of the previous test centre and will enable us to enhance our testing of future products and technologies. The engineering team is focused on the quality and durability of our products and an important part of this is rigorous environmental testing of our vehicles to ensure they can withstand even the harshest conditions."
Robin Colgan, Managing Director Jaguar Land Rover MENA added: "We are delighted at the expansion of Jaguar Land Rover's test facilities in the Middle East. Dubai offers some unique and very challenging environmental conditions, so if a vehicle passes our tests here we know it will perform in any hot weather environment. The new facility will be crucial to the company's continued success as every model for the European and MENA markets will be certified here in Dubai following thorough testing before going into global production."