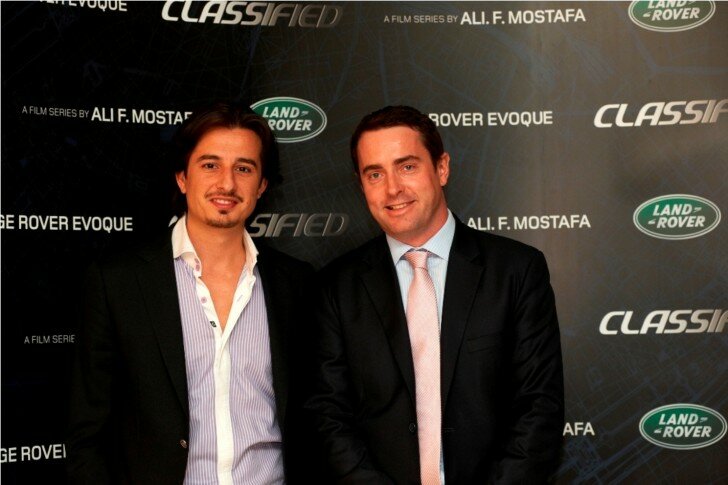 Following the overwhelming success of the Range Rover Evoque launch in the Middle East region last year, Land Rover MENAP is proud to announce that it has extended its partnership with Emirati Film Director and Producer, Ali Mostafa. The partnership will see Ali continue in his role as regional ambassador for the Range Rover Evoque for a further three years.
The 'City of Life' director was first brought on board in 2011 to support the launch of the much anticipated Range Rover Evoque, which received an unprecedented response from regional customers, with orders continuing to sustain demand well into Q4 of this year.
The collaboration was part of Land Rover's unique global launch strategy for the Range Rover Evoque to partner with 'City Shapers' from the world of fashion, design, music and film who have helped shape the cities they live in. Dubai-based Ali Mostafa was the first 'City Shaper' to be selected in the Middle East region, with the partnership resulting in the creation of 'Classified', a thrilling online film series created and directed by Ali Mostafa that featured the Range Rover Evoque as one of the main characters.. Broadcast on MBC.net last Autumn, the branded entertainment series generated 5.6 million impressions during the initial broadcast period alone and received a number of regional and international accolades for Land Rover.
Commenting on the announcement, Robin Colgan, Managing Director, Jaguar Land Rover MENAP said, "Our collaboration with Ali Mostafa has gone beyond traditional ambassadorships, allowing us to harness Ali's unique creativity, style and film making expertise to achieve one of our most successful launches in recent years. As we enter the next phase of our campaign for the Range Rover Evoque, it seems only natural that we would extend the partnership with Ali to continue to engage our audiences across the region. We look forward to revealing more details of this exciting collaboration in the coming months."
Ali Mostafa added "'I am truly honoured by the extension of my relationship with Land Rover. Especially that an iconic international brand such as Land Rover is breaking new ground by showing true long term commitment to collaborative partnerships in the region."
As part of the new three year deal, Land Rover will continue to collaborate with Ali Mostafa on events, social media and PR, as well as a new up and coming project featuring the Range Rover Evoque. Further details are expected to be announced later this year.