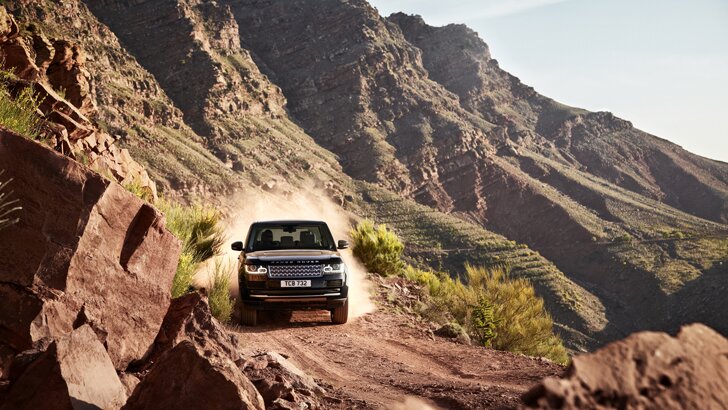 From the very first model introduced over 40 years ago, unmatched all-terrain capability and performance has been a fundamental element of the Range Rover DNA.
Now, with the launch of the fourth generation vehicle in 2012, those Land Rover genes are just as strong. Indeed, with the adoption of the latest body and chassis technologies, the performance of the Range Rover has moved on to another level, both in its on-road handling and refinement, and the breadth and accessibility of its off-road capability.
"We have engineered this vehicle from the ground up to be the most versatile, most capable Range Rover ever," said Nick Rogers, Range Rover Vehicle Line Director. "Our customers take for granted that this vehicle will cope with anything it's asked to do, and we have used our all of our experience and technology to exceed their expectations once again."
Class-leading all-terrain performance – with innovative Terrain Response® system
Building on Land Rover's legendary heritage in vehicles capable of tackling the toughest climates and road surfaces, the all-new Range Rover has been developed to achieve class-leading all-terrain capability, with supreme composure in all conditions.
With its advanced lightweight body structure, state-of-the-art new suspension design and unique Terrain Response® technologies, the new model has raised its standards once again, both in terms of its on-road capability, and its unmatched off-road performance.
Amongst the industry-leading innovations is a ground-breaking next-generation version of Land Rover's Terrain Response® system which is introduced for the first time, and which takes the capabilities of the award-winning system to a new level.
Developed by a small team of Land Rover specialists with extensive experience in all-terrain technologies, Terrain Response® 2 features an Auto setting which uses sophisticated 'intelligent' systems to analyse the current driving conditions, and automatically select the most suitable terrain program.
Ensuring that the vehicle is always driving using the optimum mode, the new system is able to switch completely automatically between the five settings: General; Grass/Gravel/Snow; Mud/Ruts; Sand; and Rock Crawl. Like all Terrain Response® systems, each setting optimises driveability and traction by adapting the responses of the car's engine, gearbox, centre differential and chassis systems to match the demands of the terrain.
While it functions completely automatically, Terrain Response® 2 will also provide the driver with additional input, such as advising when to select low range or the off-road ride height when the system calculates that it is necessary.
Alex Heslop, Range Rover Chief Programme Engineer, explained: "Land Rover's Terrain Response® system has always led the industry in helping drivers to maximise their vehicle's potential as they tackle challenging conditions. By adding an automatic mode, Land Rover engineers have moved the game on once more. Even non-expert drivers will be able to benefit from the system's full capabilities, confident that the vehicle is configured in the best possible way for each moment of their journey – however tough the conditions."
To complement the Terrain Response® system, the new Range Rover can also call upon a unique suite of all-terrain technologies to help maximise performance and safety, including Hill Descent Control (HDC), Gradient Release Control (GRC), Hill Start Assist (HSA), Dynamic Stability Control (DSC), Electronic Traction Control (ETC), and Roll Stability Control (RSC).
In addition to being upgraded with the latest tuning and functionality, the operation of these braking and stability systems is enhanced by the latest Bosch 6-piston brake modulator which delivers faster responses and smoother, quieter and more precise operation.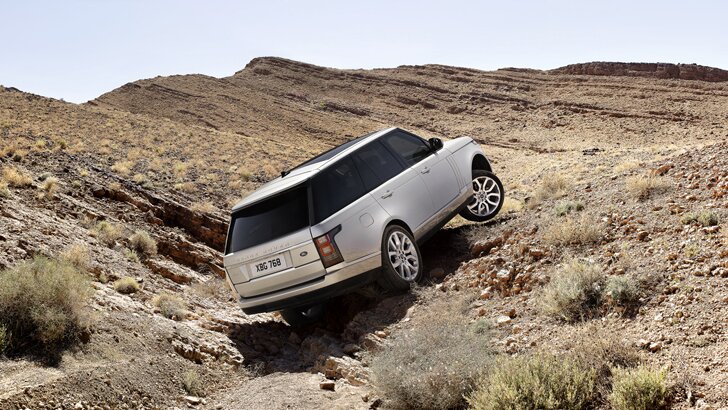 State-of-the-art lightweight suspension architecture
Another key factor in the enhanced driving capability of the new Range Rover is a state-of-the-art new lightweight suspension architecture.
The result of an extensive Land Rover research programme to identify a next-generation suspension concept for premium AWD vehicles, the suspension systems use a clean sheet design which promises to deliver best-in-class vehicle dynamics.
Primarily constructed from lightweight aluminium components, the suspension concept is fully-independent, with a wide-spaced double-wishbone design at the front and an advanced multi-link layout at the rear.
The new suspension system delivers class-leading wheel travel – with 260mm of movement at the front and 310mm at the rear, compared to less than 200mm for most competitor vehicles – providing exceptional wheel articulation and composure to deal with the toughest conditions.
As on previous Range Rovers, the lightweight chassis architecture is combined with four-corner air suspension to optimise the vehicle's versatility both on- and off-road. The air springs offer variable ride height, and are cross-linked for maximum axle articulation.
To achieve superior performance, both in terms of ride quality and the ability to change swiftly between the different ride heights, the air suspension hardware has been completely re-engineered.
The characteristic Range Rover imperious ride quality has been improved through the fitment of new low-hysteresis front air springs, which are able to absorb small irregularities much more effectively. The springs use a thinner, suppler material, which is protected by a metal casing.
Dynamic Response and Adaptive Dynamics
The performance of the suspension systems on the new Range Rover is further enhanced by the use of advanced chassis technologies to optimise vehicle dynamics.
For the first time on the Range Rover, Land Rover's Dynamic Response active lean control system is available. Fitted as standard to SDV8 and LR-V8 S/C models, the Range Rover system uses next-generation two-channel technology for superior performance.
By dramatically reducing the amount of body lean during cornering, Dynamic Response transforms vehicle handling and occupant comfort. The latest two channel system is capable of controlling the front and rear axles independently, allowing it to be tuned to deliver increased low-speed agility, along with enhanced control and stability at speed.
The new system has also been designed to improve ride comfort and reduce 'head toss' by detecting and eliminating the body rock induced by uneven road surfaces.
As with previous Land Rover active lean control systems, off-road capability is actually enhanced when the system is fitted. If the system detects off-road conditions, the control module isolates the stabilizer bar and reduces the level of roll compensation, thus allowing greater wheel articulation and increasing the contact patch with the terrain.
Adaptive Dynamics, featuring continuously variable dampers, is a standard feature on all new Range Rovers, providing the optimum balance of ride and control by offering infinitely variable damper settings between soft and firm extremes.
The Adaptive Dynamics system monitors vehicle movements at least 500 times a second, reacting to driver or road inputs virtually instantaneously to give greater control and minimise body roll, providing a composed, flat ride. The system will even sense off-road conditions, and optimise damping accordingly.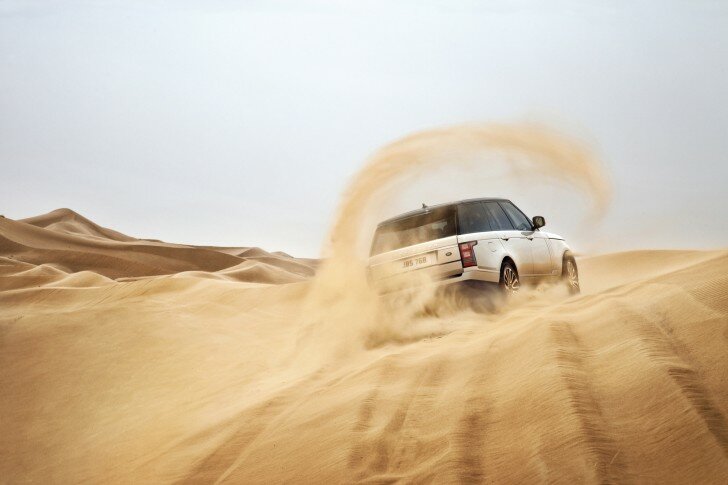 Full-time intelligent 4WD system
Range Rovers are renowned for their ability to find drive on the most challenging low-grip surfaces, and the latest model builds on that experience by featuring the proven Range Rover full-time intelligent 4WD system, with a two-speed transfer box providing a low-range option for difficult conditions off-road or when towing.
The heart of the 4WD system is the transfer box which provides permanent four-wheel-drive via a bevel gear centre differential, with a 50/50 torque split. Outstanding traction and dynamic stability is maintained through an electronically controlled multi-plate clutch which provides a centre differential lock and torque biasing function.
Using wheel slip information from a range of vehicle sensors, the control unit uses the multi-plate clutch to distribute torque between the wheels in the optimum way, working in parallel with the sophisticated electronic traction control systems.
The transfer box offers selectable high and low range, using a two-speed fully synchronized 'shift on the move' system which allows the driver to change range at speeds up to 60km/h without having to stop the vehicle, providing exceptional flexibility when tackling challenging conditions
High-range provides a direct drive with a 1:1 ratio, while low-range provides a ratio of 2.93:1, giving an extremely low crawl speed for off-road driving or for towing heavy trailers.
To further optimise traction and stability in extreme conditions, customers can also specify an Active Rear Locking Differential on SDV8 and LR-V8 S/C models.
Command Driving Position enhances confidence and control
The Command Driving Position, which provides drivers with a supreme sense of confidence and control whatever the road conditions, is an essential part of the Range Rover DNA.
Like its predecessors, the new Range Rover places the driver in an elevated, upright seating position which offers a reassuring, almost imperious, view of the vehicle and its surroundings.
The sense of control offered by the elevated driving position is enhanced by the vehicle's outboard seating location with clear visibility to the side, and outstanding forward visibility over the characteristic sunken profile of the bonnet, all of which contribute to the unique Range Rover character.
Throughout the development process, meticulous optimisation of the vehicle design and interior package – much of it using the sophisticated 3D CAVE virtual simulator – ensured that the new model retained its class-leading all-round visibility, while overall roominess increased significantly.
In fact, upward vision for the front row occupants was improved, enhancing visibility in undulating terrain and improving the view of overhead signs and traffic lights.
Like all Range Rovers, the new model had headroom targets which included provision for off-road head movements. These targets were rigidly enforced, resulting in more generous headroom, and enhanced clearance during off-road excursions.
Intuitive controls with clear and elegant layout
To enhance the relaxing and confident driving experience encouraged by the Command Driving Position, the new Range Rover is distinguished by a carefully conceived system of controls and displays which combines a stylish, uncluttered layout with state-of-the-art functionality.
The control layout has been dramatically simplified, with 50% fewer switches, to deliver class-leading ease-of-use and intuitiveness, while also emphasising the clean, elegant lines of the cabin.
Developing the state-of-the-art display technology pioneered by the outgoing model, the new Range Rover features two primary high-resolution display screens – a 12.3-inch display for the main instrument pack, and an 8-inch touchscreen unit for infotainment and secondary functions, with optional Dual View.
The screen graphics on both displays are very elegant, having been meticulously designed to create the impression of 3D surfaces, beautifully lit with subtle chrome detailing. Each display is able to adapt its content according to the driving situation, eliminating unnecessary details and presenting the most important information in a clear and simple form.
The intuitive and elegant approach is reflected in the other major controls, such as the rotary Drive Select and Terrain Response® controls on the centre console, the simplified Heating, Ventilation and Air Conditioning dials, and the twin five-way toggle switches and auxiliary functions on the steering wheel.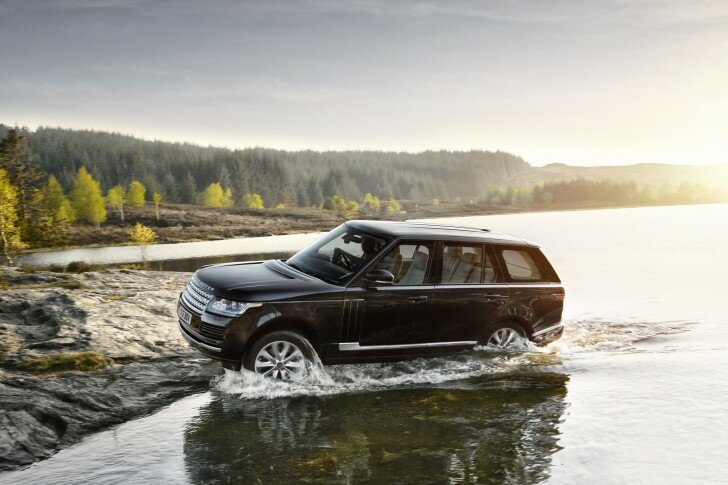 Engineered for total capability
From the very start of the development process, the new Range Rover has been designed and engineered to deliver the incredible breadth of capability which the marque is famous for, from the ability to tackle the toughest terrains to its class-leading towing capacity.
Ensuring the vehicle is true to this Range Rover heritage has required continuous attention to the fundamental engineering requirements which underpin this performance, including developing a tremendously strong structure, achieving suitable body geometry and suspension capability for off-road agility, and integrating full towing functionality.
Optimising the new body structure began with the most extensive optimisation process ever undertaken by Land Rover, with unprecedented use of advanced computer simulation – demanding well over 1000 years of processor time – to deliver outstanding strength and durability, excellent safety and minimum weight.
To analyse the punishing off-road load cases which really push the structure to its limits, such as the crunching 'ditch drop' impact, engineers turned to the specialised and incredibly powerful simulation tools more typically used to model crash events.
The new Range Rover features enhanced body geometry for all-terrain conditions, and provides 17mm more ground clearance at 303mm (measured at the off-road ride height), and improved approach and departure angles. The vehicle underfloor has been specially designed to provide a smooth surface, with a smooth transition between suspension components, to reduce susceptibility to damage or interference.
Wading depth has also improved significantly to 900mm, an increase of 200mm. This is partly enabled by an innovative air intake system, which draws air between the inner and outer bonnet panels at the sides of the vehicle before it flows down into the intake system in the sides of the engine compartment.
The re-engineered air suspension system has also significantly enhanced off-road capability, by introducing an automatic system which varies between two ride heights (+40mm, +75mm) when the off-road setting is selected, rather than a single +55mm position.
This provides 20mm increased maximum ground clearance at speeds below 50km/h, while the +40mm intermediate setting means that the off-road mode can remain available at much higher speeds (80km/h vs 50km/h) than was possible before, which is very valuable in terrain with long, rutted dirt roads.
Careful tuning also means the suspension system is better able to detect deep wading conditions or situations when ride height adjustment is actually required to prevent grounding.
The new Range Rover further improves the model's position as the best towing vehicle in its class with a 3,500kg trailer capability, and the availability of a new electrically deployable towbar*. Key additional features to enhance the towing experience include the Surround Camera system with Tow Assist for easier hitching and reversing, and the Trailer Stability Assist system.
Alex Heslop, Range Rover Chief Programme Engineer, said: "Like all Range Rovers before it, we have engineered the new model to have the broadest range of capabilities in its class – this is a vehicle which is completely fit for purpose. It has also survived Land Rover's legendary testing regime, which subjects the vehicle to 18 months of gruelling tests in the harshest conditions imaginable."
Land Rover toughness and durability
With an unprecedented engineering development process using state-of-the-art virtual simulation tools, followed by the Land Rover's punishing on- and off-road test and development regime, the new Range Rover has been engineered to achieve exceptional durability and reliability.
While the initial engineering and optimisation is conducted almost exclusively using computer simulation, vehicle performance and robustness is verified through extensive physical testing, using both driven and rig-based regimes.
Well over 20,000 physical tests have been completed across all components and systems, with a fleet of development vehicles covering countless thousands of miles over 18 months of arduous tests in over 20 countries with extremes of climate and road surfaces.
Prototypes are driven in challenging off-road conditions such as sand, mud and snow, and their durability is put to the test in extreme exercises to prove out deep wading, underfloor vulnerability, snatch recovery and towing at maximum GTW. Further extreme strength tests include worst-case scenarios such as driving into kerbs at speed, bridge jumps, ditch drops and sideways kerb strikes.
Punishing longer test regimes provide the ultimate challenge for durability and reliability including the month-long 'king of the sand' durability test in intense Middle East desert heat, a 5,000 mile flat-out endurance drive at the Nürburgring circuit, and gruelling off-road test cycles involving thousands of miles at challenging UK proving grounds.